CHIEF INFORMATION OFFICER - CIO
(Key IT Management Models And IT Leadership Best Practice)



Overview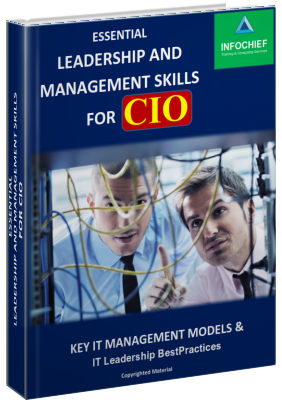 The Information Technology (IT) are widely applied by the CIO/IT Director/IT Manager in renovating and improving the business production process. However, how to deploy and run the IT system in such a scientific and efficient manner: To understand and master the technological trend, technological investment, budget saving and in line with the business strategy; achieving the quality of the project implementation results as expected; grasping changes in administration as per the road map.

The training course will provide IT leaders and managers with the core knowledge about 8 skills of IT administration in organizations, enterprises, groups, corporations via the IT leadership programs with IT system running methods and tactics in the most optimal manner.
The program is compiled and developed by Infochief based on the IT practical, IT management experience of IT manager/CIO of financial groups, trade and business multinational companies in Vietnam, America, Europe, Japan as well as researches on other famous training materials of CIO, foreign training partners in the IT management field.
Objectives
i. To improve the capability of an IT Manager through knowledge about the role of a CIO
ii. To assess the difference of the leadership styles and selection, development of highly efficient IT models
iii. To understand business strategies as a base to build a specific IT strategy to support enterprises
iv. To better manage the crisis via communication and case study to renovate the organization of IT Director
v. To understand the best IT management models in the global groups today.
What the learners gain and can do after the training course?
1. To fully understand the roles and responsibilities of a IT leader in organizations and groups
2. To understand the business and financial models and production, trade, and financial investment processes; to know how to manage different functions to create a core value chain for enterprises
3. To efficiently run the organization in terms of human beings, processes and technologies at different levels, small and medium sized enterprises, economic state owned enterprises, private and joint stock companies
4. To construct IT strategies at the group level as per stages, middle term and long term along with the available business develop directions
5. To construct highly feasible IT plans to assure the support for the business operations in such a continuous, safe and efficient manner
6. To construct and manage the standby budget plans and investment for feasible and efficient IT projects
7. To construct IT operation cost saving programs based on the future technological trends
8. To construct a good personal image of a professional IT leader.
Participants
i. IT Manager
ii. IT Director
iii. IT Project Manager
iv. IT Senior Manager
v. IT Strategists, those who are responsible for developing IT strategies for the enterprises
vi. Those with career objectives to become a CIO in the future
Contents
Module 1: Enterprise Leadership
- Role of business leaders
- Overview of corporate governance
- Corporate governance model
- 4 Business administration functions
- Steps to establish an organization
- Important principles in business organizations
- Targeted management & process management
- The difference between management & business leaders
- IT governance supports strategic business objectives

Module 2: Internal Politics & Influencing
- Set power & Influence
- Build relationship & trusty
- 5 Leadership levels
- Principles of superior leadership
- Development of self-leadership
- Complete the same level leadership
- Principles of subordinate leadership
- Build professional CIO profiles

Module 3: IT Strategy & Enterprise Strategy Leadership
- Differentiating IT strategy & information system strategy
- The scope and levels of IT strategy in the enterprise
- Business strategy components
- The components that build an IT strategy
- The process of creating a perfect technological strategy
- Define the goals in the business strategy
- Map IT strategy to support business strategy
- Deploy and manage IT strategies
- Case study typical IT strategy

Module 4: IT Budget & Finance for CIO
- Issues in managing IT budgets today
- What CIOs need to know about operating budgets for IT
- The skills to persuade investment on projects for CIOs
- 7 Important components of IT investment budget
- Manage outsourcing budget effectively
- 3 Ways to control your IT budget
- What the CIO needs to know about balance sheets.

Module 5: Successful IT Project Leadership
- 6 Principles for Successful IT Project Management
- Build relationships in project management
- 5 Critical factors for creating an excellent project team
- Process of managing a successful IT project
- The steps for planning a complex IT project
- Communication in the project
- How to create and schedule effective projects
- Risk factors in IT projects

Module 6: Change Leadership
- Why change management is always difficulty
- The scale of technology change
- Fundamental principles for controlling technology change
- Control the response of internal customers
- Be prepared to change
- Tactics to manage and placate for change
- 7-step process to change
- Implement change
- Adapt to change

Module 7: IT Services Management
- The benefits of the service model
- How to convert Cost center to Service center
- The components to constitute a service
- Steps of operation of an IT service organization
- 10 core processes in the service model
- Evaluate the effectiveness of the service

Module 8: Information Security Management
- Information security policy
- Organization of information security
- Asset Management
- Ensure safety of human resources
- Ensure physical and environmental safety
- Management and communication
- Access management
- Receiving, developing and maintaining information systems
- Manage information security incidents
- Manage the continuity of business operations
- Compliance


Module 9: IT Risk, Compliance and Governance
- What are the operational risks of an IT organization?
- Risk management forms
- IT risk assessment process
- Analytical matrix & IT risk level monitor
- IT risk control plans
- Plan to ensure continuous operation system

Module 10: IT Organization & Outsourcing Leadership
- Organizational models of IT service trends
- Mechanism of operating a professional IT organization
- Signs of opportunity to reorganize IT organization
- CIO needs to know when setting up functional groups
- Evaluate the IT department
- Establish and improve operational objectives for IT organizations
- Build relationships and manage outsourced services
Materials
i. The standard materials of the Infochief institute (Vietnamese)
ii. Reference document (English)
Training methods
The experts will apply the following training methods to convey the contents:
i. Open discussion
ii. Case study
iii. Self-assessment
iv. Mini-lecture
Difference of the training methods at Infochief
- Coaching based on the actual management models
- Practice training in line with the requirements of each position
- 100% is to practice the actual skills required by the daily work at the workplace
- To assure that after the training course, learners are confident at their work
- Senior staff are given priority for being introduced to our partners
Upon completion of the course : It is a must for the learners to complete a project at the end of the course, the aim is to assess the ability to apply the training contents to the actual working environment.


Graduation certificate : To be granted by INFOCHIEF with national validity
.