MIND MAP APPLICATION FOR BUSINESSES
Overview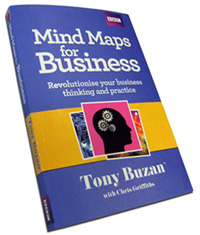 We are living in a world with aggressive development from many perspectives. The world is changing every second. Thus, learning and working hard are not totally an optimal solution. With many options for selection, it is not purely learning and and doing something too rigidly but instead, how to learn, to work and what technologies to apply at work in such a scientific manner to get the best results. It can be said there are many information sources and the reality shows that there is not only knowledge but also ability to create knowledge value added.
Mind Map of TONY BUZAN is a way to open door for strengths of thought, creating breakthroughs in ways of thinking… as a base to create knowledge added value.
Objectives
i. To establish a Mind Map (plan, work)
ii. To be expert at using Mind Map software
- SWOT analysis
- To set and deploy the weekly, monthly and yearly plans
iii. Brainstorming by Mind Map
iv. To set up and deploy the corporate strategies based on balanced score card and key performance indicator
v. To use Mind Map for project compiling
vi. To use Mind Map for marketing plan
vii.To use Mind Map for set up and chairing meetings
Participants
i. Board of Management
ii. Board of Directors
iii. Managers/ Deputy Mangers
iv. Other positions related to management in enterprises, project management
v. Staff, students …
Contents
Module 1: Overview about Mind Map
1. Mindmap introduction
1.1 WhatMindmap is
1.2 Who is the father of Mind Map
1.3 What Mindmap can help you
1.4 What you need to create Mind Map
2. Mindmap establishment
2.1 Imagination game
2.2 Brainstorming techniques
2.3 7 Step to establish Mind Map
2.4 Practising creating the first Mind Map in paper
3. Instructions to useMindManager 9.0

Module 2: Practice
4. MindmapPractising applying Mind Map
4.1 To make a list of the daily work
4.2 Meeting organization
4.3 Process designing
4.4 To set event organization plan
4.5 Travelling plan
4.6 Setting project plan
4.7 Project report making
4.8 Making organizational chart
4.9 Marketing strategy formation
Materials
i. The standard materials of the Infochief institute (Vietnamese language)
ii. Reference document (English)
iii. Mind Manager 9.0 And Samples.
Training methods
The experts will apply the following training methods to convey the contents:
i. Open discussion
ii. Case study
iii. Self-assessment
iv. Mini-lecture
Difference of the training methods at Infochief
- Coaching based on the actual management models
- Practice training in line with the requirements of each position
- 100% is to practice the actual skills required by the daily work at the workplace
- To assure that after the training course, learners are confident at their work
- Senior staff are given priority for being introduced to our partners
Upon completion of the course : It is a must for the learners to complete a project at the end of the course, the aim is to assess the ability to apply the training contents to the actual working environment


Graduation certificate : To be granted by INFOCHIEF with national validity