PRACTICAL IT MANAGEMENT SKILLS

(Increase IT Management and Leadership Skills)



Overview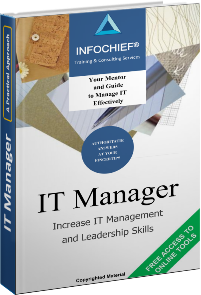 You are a successful IT staff who has just been promoted to the IT manager. Skills of a technical expert are quite different from those of a manager. Or you have been an IT manager for many years, you have many ideas to renovate the IT activities to support your enterprise to be better, however, you do not know where to start and lack of confidence to move forward as you are not experienced in setting plans or lacking appropriate tools to deploy your ideas.
This training course on the skills of an IT manager will provide learners with the full knowledge and core skills, typical actual management case study with more than 100 tools that help you to be confident, and active to implement any ideas or requirements of enterprises.
This program is compiled and developed based on the practical experience on IT management of IT managers/CIO of financial groups, production and trade groups of Vietnam, US, Europe and Japan along with in-depth research on other famous training materials of CIO, foreign training partners in the IT management field.
Objectives
i. To provide the professional IT Manager with the necessary and comprehensive knowledge
ii. To improve skills on leadership, management of organization, human beings, technologies, policies, and daily activities
iii. To develop directions and IT strategic projects along with the short term, middle term and long term business strategies
iv. To control the results and operation process of the whole organization by applying and implementing projects such as design, system construction, IT application
v. To develop an image of a successful leader and IT Manager .
What learners gain and can do after the training course ?
1. Know how to assess, analyze the needs of support IT application to the business activities of enterprises efficiently based on the professional practicing tools.
2. To construct comprehensive short term and long term IT development strategies (3 months, 9 months, 12 months, 24 months) to support the business demands and tightly attaching to the business development directions of enterprises
3. To set plans, construct and manage the IT budget, budget for efficient investment
4. To set, manage and implement IT projects efficiently (timely, within the budget, efficiency and quality)
5. To make the IT cost saving plans for enterprises on a yearly basis that help to minimize the operating cost for the IT system
6. To develop the management skills for suppliers, product selection (within the available resources and cost saving for the company)
7. To make management process on IT service, assets, administrating the configuration as well as system change that help to run the system in such a stable manner
8. To set plans, processes and manage IT activities including:
- LAN-WAN infrastructure architecture
- Data center
- Business application
- Enterprise system
- Back –up filing system and data restoring
- To overcome risks of system, maintain the continuous operation of the system
9. To make the rules and regulations on confidentiality, operating policies of IT department, IT system risk management to assure the continuous business
10. To make and deploy IT service models, IT function models in line with each enterprise; to improve the quality of the IT department to turn it into an information center of enterprises
Participants
i. IT Administrator
ii. IT Supervisor
iii. IT Team Leader
iv. IT Assistant Manager
v. IT Manager
vi. Those with career objective to become an IT manager/leader in the future
Program Contents
Module 1: IT Manager's Role
Module 2: IT Strategy Planning
Module 3: IT Project Planning
Module 4: IT Service Management
Module 5: IT Asset Management
Module 6: IT Security & Risk Management
Module 7: IT Budget Management
Module 8: IT Procurement & Supplier Management
Module 9: IT Department Management
Module 10: IT Staff Motivation

Materials
i. The standard materials of the Infochief institute (Vietnamese)
ii. Reference document (English)
iii. 500 IT Manager Toolkit - Forms, Checklists, Templates, Scorecards, Procedures, Flowchart, Guidance, Samples, Rules, Policies, Questionaire, Assessment, Comparision chart
Training methods
The experts will apply the following training methods to convey the contents:
i. Open discussion
ii. Case study
iii. Self-assessment
iv. Mini-lecture
Difference of the training methods at Infochief
- Coaching based on the actual management models
- Practice training in line with the requirements of each position
- 100% is to practice the actual skills required by the daily work at the workplace
- To assure that after the training course, learners are confident at their work
- Senior staff are given priority for being introduced to our partners
Upon completion of the course : It is a must for the learners to complete a project at the end of the course, the aim is to assess the ability to apply the training contents to the actual working environment.


Graduation certificate : To be granted by INFOCHIEF with national validity.

Detail contents
Module 1: Role of IT Manager
- The value of IT in business
- How the IT support the business
- The stages of IT development
- Roles & responsibilities of IT manager
- How IT manager to be success
- The processes to create value for IT manager

Module 2: IT Strategy Planning
- Distinguish IT strategy & IT plans
- 5 Objects that need have in IT strategy plan
- The steps to build the IT strategy
- Survey and Evaluation business
- Identify IT strategic roadmap
- Strategy project design
- Implement and evaluate IT strategic projects

Module 3:

IT Project Planning


- 5 Rules to ensure IT project to be success
- The constraints in IT Project
- Classification based on risks of IT projects
- The project stakeholders
- The project management
- 12 Project plans

Module 4: IT Service Management
- Design rule of IT services
- The steps to build IT services catalog
- To build the service level agreements (SLA)
- Develop the processes to support IT service
- Hiring and training IT staff for Helpdesk
- The model of services support
- Software tools to track support service

Module 5:

IT Asset Management


- The relationship of IT services & assets
- How to manage IT assets ?
- Lifecycle management of IT assets
- Organization of IT asset information
- Manage the maintenance of asset information
- Management of asset configuration information

Module 6: IT Security & Risk Management
- Develop IT policies and procedures for security
- To organize training and awareness for effective policy implementation
- IT risk classification
- Process assessment & IT risk management
- Develop risk management plan (RMP)
- Develop a disaster recovery plan (DRP)

Module 7: IT Budget Management Planning
- IT cost classification
- 3 The role of IT Budget
- Develop IT operational budgets (Opex)
- The IT investments budget plan (Capex)
- The rate of return on investment
- Development of cost-saving plan
- Tools to track and monitor the IT budgets

Module 8: IT Procurement & Supplier Management

- Planning for IT procurement
- Develop standard IT equipment procurement
- Develop procurement policies & IT investment
- Process of technology equipment procurement
- Evaluation methods and equipment selection
- Evaluate and select suppliers

Module 9: IT Department Management Planning
- The operational mechanism of IT department
- 3 Phases of IT department
- How to receive a new IT organization
- Analyzing IT recruitment needs
- Job description and assign the tasks
- Develop standard operating procedures
- Develop work schedules

Module 10:

IT Staff Motivation


- Identify characteristics of IT staff
- Learn IT staff needs
- Create motivation for IT staff
- The development plan for IT staff
- Develop goals for IT staff
- Annual performance evaluation