IT OPERATIONS MANAGEMENT SKILLS

(Managing your IT Infrastructure In the Age of Complexity)

Overview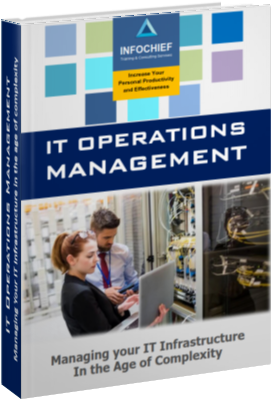 As business development that requires IT systems must also meet the high goals that the organization was setted, to improve the quality of service to customers. The challenge for organizations and businesses is how to operate the IT system not only to ensure the operation of business services but also to ensure the quality of business services, IT is becoming the foundation for the competitiveness of business services among different organizations and businesses.
Any IT system administrator needs many skills not only technological and technical skills but also working skills, planning as a decisive factor towards the success of the IT occupation as well as bringing about efficiency and value to enterprises. We create the IT administrator skills aimed at equipping learners with the core planning skills to support their IT job.

The training course is designed based on our extensive experience after many years working in the IT field of IT manager, CTO of financial groups, trade and production multinational companies in Vietnam, America, Europe, and Japan with research on other famous training materials of foreign CTO in IT daily activities management field.
Objectives
i. To equip IT experts and IT system engineers with the most necessary and comprehensive knowledge
ii. To improve technological management skills in such an efficient manner
iii. To manage the IT systems professionally to serve and meet all requirements of business and production activities
iv. To build a good image of a professional and dynamic technological experts.
What you can do after the training course?
01. Know how to design an information technology solution.
02. Know how to implement an IT specific plan.
03. Know how to organize, assign and schedule to deploy IT work effectively.
04. Know how to build helpdesk process to support user and level 1.
05. Know how to manage IT equipment, system configuration and system change management.
06. Know how to manage the comprehensive operation of technical items: PC-Laptop, Server, LAN / WLAN / WAN, Data / Database, System Software / Application.
07. Know how to plan, monitor, maintain and upgrade business IT system annually.
08. Know how to evaluate and develop IT backup and recovery plan.
09. Know how to build IT security policies and implement IT procedures and standards.
10. Know how to build IT reports on IT systems based on Templates.
Participants
i. IT Technician
ii. IT Network Administration
iii. IT System Supervisor
iv. IT Infrastructure Administrator
v. Those with career objectives to become a professional IT infrastructure administrator
Contents
Module01: Technique for Writing an IT Solution
Module02: Deploy an IT Technology Plan
Module03: IT Operation Scheduling & Assigning IT Tasks
Module04: Build IT Support Process for User & Level 1
Module05: Management of IT Infrastructure
Module06: Management of IT Operations
Module07: Planning for IT Monitoring, Maintenance & Upgrades
Module08: Make scheduling for Backing up & Restoring IT Systems
Module09: Build IT Security Policies
Module10: Developing IT Operations Reports

Materials
i. The standard materials of the Infochief institute (Vietnamese)
ii. Reference document (English)
iii. 300 IT Admin Toolkits - Checklists, Templates, Assessment, Processes, Procedures, Flowchart, Guidance, Samples, Rules, Policies, Questionaire, Comparision chart.
Training methods
The experts will apply the following training methods to convey the contents:
i. Open discussion
ii. Case study
iii. Self-assessment
iv. Mini-lecture
Difference of the training methods at Infochief
- Coaching based on the actual management models
- Practice training in line with the requirements of each position
- 100% is to practice the actual skills required by the daily work at the workplace
- To assure that after the training course, learners are confident at their work
- Senior staff are given priority for being introduced to our partners
Upon completion of the course : It is a must for the learners to complete a project at the end of the course, the aim is to assess the ability to apply the training contents to the actual working environment.


Graduation certificate : To be granted by INFOCHIEF with national validity
Detail Contents
Module 1: IT Assessment

Personal Computer and LaptopIT System (PC / Laptop)
Server system
Network equipments and capabilities (LAN / WLAN / WAN)
IT Storage Systems
The IT Controls
IT Processes, Policies and Procedures
Roles and Responsibilities of the IT Department
Practice: Perform IT System Evaluation

Module 2: IT Operation Standard

IT assets list & annual assessment procedures
Network environment safety standards
Files list and file / folder access control
Data backup strategy
Backup logs
Virus and malicious code management procedures
Verified software list
Classification and access permission to business applications
IT incident handling procedures (Incidents)
DRP planning (Mirror site / Hot site / Warm site / Cold site)
Practice: IT System Standardlization

Module 3: Network Monitoring & System Maintenance

Server monitoring and maintenance (File / Database / Web / Email)
Data-center systems monitoring
UPS monitoring & maintenance activities
LAN maintenance tasks
Periodic PC / LAPTOP maintenance
Installed software and compliance monitoring
File, Email backup monitoring and maintainance
Network monitoring tools
Practice: IT Maintenance Planning

Module 4: System Backup & Restore

Lập kế hoạch hoạt động kinh doanh liên tục
Nhận biết các điểm yếu kỹ thuật trong hệ thống IT
Thiết lập quy trình đánh giá hệ thống dự phòng IT
Xây dựng các thủ tục Backup và khôi phục hệ thống quan trọng
Phát triển kế hoạch dự phòng khôi phục sự cố IT
Phát triển kế hoạch dự phòng khôi phục thảm họa IT (DRP)
Thủ tục khôi phục hệ thống khi gặp sự cố
Bài thực hành: Lập kế hoạch kinh doanh liên tục

Module 5:

QUY TRÌNH HỖ TRỢ & VẬN HÀNH

Quy trình tiếp nhận & Quản lý yêu cầu (Request)
Quy trình quản lý các sự cố (Incidents)
Quy trình giải quyết vấn đề (Problem)
Quy trình quản lý sự thay đổi (Change)
Quy trình quản lý Tài sản & Cấu hình (Configuration)
Quy trình quản lý Năng lực IT (Capacity)
Quy trình quản lý triển khai (Release)
Công cụ ghi nhận yêu cầu & sự cố (Tickets)
Tài liệu cam kết hỗ trợ (SLA & OLA)
Bài thực hành: Xây dựng quy trình vận hành IT

Module 6: Build IT Security Policies

- Develop IT policies for user
- Developing IT policies for IT system operation
- Building IT technical standard for infrastructure:
+ Protection of information
+ Information management
+ Distributed information
+ Application software
+ Network devices
+ Computer resources
- Practice

Module 7:

TỔ CHỨC CÔNG VIỆC VẬN HÀNH IT

Thiết lập danh mục công việc vận hành IT
Xây dựng lịch vận hành IT
Phân công nhiệm vụ vận hành IT
Hướng dẫn vận hành hệ thống IT (SOP)
Huấn luyện nhân viên IT dự phòng
Tính toán và tối ưu thời gian vận hành
Thiết lập cam kết thời gian vận hành nội bộ IT (OLA)
KPI đánh giá hiệu quả công việc IT
Bài thực hành: Tổ chức và phân công công việc

Module 8:

VIẾT GIẢI PHÁP KỸ THUẬT


Phân tích vấn đề của hệ thống IT
Xác định nguyên nhân (RCA - Root Cause Analysis)
Đề xuất các biện pháp, giải pháp [khắc phục, cải tiến]
Lợi ích của giải pháp (ROI)
Tính toán chi phí TCO
Kế hoạch triển khai
Kế hoạch vận hành & Bảo trì


Bài thực hành: Viết giải pháp kỹ thuật IT




Module 9: TRIỂN KHAI KẾ HOẠCH IT

9 Thành phần cần có trong bản kế hoạch IT
Kỹ thuật phân nhỏ hạng mục công việc IT
Ma trận trách nhiệm trách nhiệm
Phương pháp tính ước lượng thời gian
Kỹ thuật đánh giá tiến độ hoàn thành công việc
Tổ chức nhóm triển khai IT
Bảng cam kết làm việc nhóm
Bài thực hành: Lập kế hoạch triển khai dự án kỹ thuật IT

Module10: CÁC BÁO CÁO VẬN HÀNH IT
Báo cáo tình trạng sử dụng thiết bị (Asset Report)
Báo cáo sự cố IT định kỳ (Incident Report)
Báo cáo vấn đề IT định kỳ (Problem Report)
Báo cáo các thay đổi hệ thống định kỳ (Change Report)
Báo cáo backup định kỳ (Backup Report)
Báo cáo năng lực máy chủ định kỳ (Capacity Report)
Báo cáo an toàn bảo mật định kỳ (Security Report)
Báo cáo thiết bị thay thế định kỳ (Spare Report)


Bài thực hành: Xây dựng báo cáo IT định kỳ