PRACTICAL IT ADMINISTRATOR SKILLS

(IT ADMIN)

Overview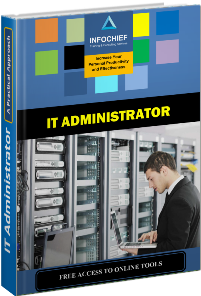 Any network or IT system administrator needs many skills not only technological and technical skills but also working skills, planning as a decisive factor towards the success of the IT occupation as well as bringing about efficiency and value to enterprises. We create the IT administrator skills aimed at equipping learners with the core planning skills to support their IT job.

The training course is designed based on our extensive experience after many years working in the IT field of IT manager, CTO of financial groups, trade and production multinational companies in Vietnam, America, Europe, and Japan with research on other famous training materials of foreign CTO in IT daily activities management field.
Objectives
i. To equip IT experts and IT system engineers with the most necessary and comprehensive knowledge
ii. To improve technological management skills in such an efficient manner
iii. To manage the IT systems professionally to serve and meet all requirements of business and production activities
iv. To build a good image of a professional and dynamic technological experts.
What leaners gain and can do after the training course?
1. To fully understand and know how to construct processes to manage the IT support services
2. Know how to create a list and manage the technological asset information as well as processes of management on configuration of the IT system and manage changes in the system functions
3. To manage comprehensively technical aspects of an IT infrastructure from server room to data center
4. Know how to set plans on purchase, selection of technological products and suppliers
5. Setting periodical plans: system maintenance, system upgrading on a yearly basis
6. Know how to set a plan to assess risks of IT system as a base to take precautions and minimize risks for the IT system
7. Know how to design a technological solution as a sharp supporting tool for the business activities
8. Know how to set a budget plan to maintain the operations of IT system and IT cost saving program on a yearly basis
9. Know how to build a management process for a specific IT project and control elements to assure the great success of an IT project.
Participants
i. IT Technician
ii. IT Network Administration
iii. IT System Supervisor
iv. IT Infrastructure Administrator
v. Those with career objectives to become a professional IT infrastructure administrator
Contents
Module1: IT ServiceDesk Management
Module2: IT Department Organization
Module3: IT Asset Management
Module4: IT Infrastructure Management
Module5: Risk Management And Continuity Operation
Module6: IT Cost Saving Strategy
Module7: IT Master Plan
Module8: IT Solutions Development
Module9: IT Project Planning
Module10: IT Purchasing
Materials
i. The standard materials of the Infochief institute (Vietnamese)
ii. Reference document (English)
iii. 300 IT Admin Toolkits - Checklists, Templates, Assessment, Processes, Procedures, Flowchart, Guidance, Samples, Rules, Policies, Questionaire, Comparision chart.
Training methods
The experts will apply the following training methods to convey the contents:
i. Open discussion
ii. Case study
iii. Self-assessment
iv. Mini-lecture
Difference of the training methods at Infochief
- Coaching based on the actual management models
- Practice training in line with the requirements of each position
- 100% is to practice the actual skills required by the daily work at the workplace
- To assure that after the training course, learners are confident at their work
- Senior staff are given priority for being introduced to our partners
Upon completion of the course : It is a must for the learners to complete a project at the end of the course, the aim is to assess the ability to apply the training contents to the actual working environment.


Graduation certificate : To be granted by INFOCHIEF with national validity
Detail Contents
Module 1: IT ServiceDesk Management
- IT management concept as a business unit
- IT service designing principles
- Service catalog creating steps
- Service provision commitment
- Service support process formation
- Leasing and training Helpdesk/support staff
- Service support models
- Software of tools to observe service support
- KPI for service support
Module 2: IT Department Organization
- IT department formation with 3 organization charts
- Organizational chart as per the service support process
- Approaching methods of a new IT organization
- Analyzing IT recruitment needs
- Job description & task assignment
- Standard working procedures formation
- Working schedule formation
- Constructing KPI for IT organization
- IT system KPI monitoring tools
Module 3: IT Asset Management
- Relation between service & IT asset
- How to manage IT asset
- IT asset life cycle management in organization
- Asset information organization
- Management on change in asset information
- Management on configuration information
- Asset management software tools
- Task assignment of asset maintenance staff

Module 4: IT Infrastructure Management
- Network infrastructure architecture
- Server infrastructure architecture
- Infrastructure architecture
- Storage architecture network
- SAN
- Data center
- Air conditioning system
- Network cable system
- Power source techniques
- Fire prevention system
Module 5: Risk Management And Continuity Operation
- IT confidentiality scope in enterprises
- Constructing policies and procedures on IT confidentiality
- Organization for perception training and efficient implementation of policies
- IT risks classification
- IT risks evaluation and management process
- Risks management plan
- Disaster recovery plan
- Communication and IT crisis management
Module 6: IT Cost Saving Strategy
- List of IT operation maintenance on a yearly basis
- Technological cost saving models
- Cost saving strategy building process
- Practising cost saving planning
- Technological cost saving models
- Register for KPI for yearly cost saving

Module 7: IT Master Plan
- People, Process, Technology analysis
- IT business planning methods
- Business need interview
- IT system comprehensive assessment
- SWOT analysis
- IT system SMART every year
- IT planning budget
- IT business plan model
- Chairing IT business meetings

Module 8: IT Solutions Development
- Available IT system assessment methods
- IT structure solution in enterprises
- 9 key components of the technological plan
- Selection of technological products
- Analytical tactics about return on investment and
- The current IT system assessment methods (AS- IS).
- Model IT solutions for system, helpdesk, data, confidentiality, website, e-marketing
- Practising designing solutions and total order value for each solution .

Module 9: IT Project Planning

- 5 Basic principles for success assurance
- 3 Constraints in project
- Risk-based IT project classification
- Project concerned parties
- 12 Template for project deployment plan
- Deployment, supervision and completion of the project

Module 10: IT Purchasing
- Surveying purchasing needs for IT system investment
- IT Procurement plans
- Planning IT equipment infrastructure purchasing criteria creation
- IT investment purchasing policies making
- Technological equipment purchasing process creation
- Evaluating methods for selection of equipment and technological solutions
- Methods for evaluation and selection of suppliers
- Software solution purchasing process
- Managing information about contracts signed with suppliers